Do I wear pantyhose or not? My daughter is having a late afternoon wedding. My dress is navy lace with an a-line skirt to the knees. My shoes are open toed with a strip of silver rhinestones across my foot.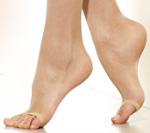 Most women don't wear pantyhose that cover their toes with open toe style shoes. However you can wear ultra sheer neutral color toeless stockings / pantyhose. Stockings / pantyhose give you a more polished look and are appropriate for a wedding. Your navy blue, lace dress sounds beautiful for your daughter's wedding.
Read More:
Go Without Hose or Wear Stockings?
Today many young women don't own a pair of stockings. You see the younger generation walking around the city in business suits during the day and out in the evening without hose winter and summer.
A Leg Up: When to Wear Stockings
Since most everyone is doing their own thing when it comes to fashion these days we decided to ask three experts when to wear stockings or when it is OK not to wear them.
Sheer Stockings – This Seasons Style Choice
Thank goodness for the "Duchess of Cambridge," who cannot be seen without sheer stockings, and celebrities like Lady Gaga, Rihanna and Beyonce` for wanting flawless looking legs.  Now a polished look for day and evening is back with neutral sheers.
When to Wear Neutral Color Sheers
Whether it's a luncheon, party, wedding or dinner dance many women are still confused about when to wear sheer hosiery / sheer stockings. Common sense says to make the right style choice women need to consider the weather, their age, what they are wearing (skirt or pants), type of footwear and where they are going, a casual or more formal venue.