A Leg Up: When to Wear Stockings
By Cathie Hehman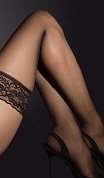 3 Experts Weigh in on When to Wear Stockings
Since most everyone is doing their own thing when it comes to fashion these days we decided to ask three experts when to wear stockings or when it is OK not to wear them.
Michele Benza image consultant, San Francisco feels hosiery is necessary only to keep your legs warm or as a fashion element. She says "During the cold season, I encourage my clients to wear hosiery like leggings, tights, fishnet, etc…". When the weather gets warmer, stockings are not necessary as long as the legs are hairless and the skin moisturized daily for a healthy shine. A layer of self tanning lotion will do the trick for white legs. In summary: no leg wear during warm days, and fun leg wear during the cold days. Think of legwear as an accessory. Michele says "Nude hosiery is out!"
Ginger Burr, Total Image Consultants, Boston says that if you work in a conservative profession, nylon stockings create a more polished, formal look (choose thigh highs if you detest pantyhose). "When wearing stockings, you must wear closed-toed shoes. No sandals or open-toed shoes with stockings (webbed toes are very unattractive). I always advise my clients that when in doubt, look to see what their boss or a woman in a higher position is wearing.
"When it comes to a casual or creative business environment or a social occasion choosing whether or not to wear stockings is a personal preference. An outfit will always appear dressier with stockings but you have to take into consideration your shoe preference. With very trendy exceptions, open-toed shoes are not meant to be worn with stockings."
Samantha von Sperling image consultant, Social Image, New York thinks that in casual work places or not too conservative companies you don't have to wear hosiery. She says "What companies frown on, is women wearing short skirts with ugly legs and less than gloriously pedicured feet…" Samantha says "Always exercise good judgment when dressing for the work place. On your own time, anything goes. Just look in the mirror before you leave the house."
More Tips
Printed Legwear looks best with solid color dresses, and skirts of any length or shorts.
Leggings can be worn under dresses, and skirts of any length or shorts. They look stylish with shirts belted at the waist.
For evening with a little black dress, you can wear sheer black hosiery with or without embellishments (back seams or rhinestones, etc.).
Openwork & Fishnet Stockings are great for evening with high heels. Metallic tones are also a choice for evening.
Shapewear is very flattering. It gives you support with a firm and smooth look.
The weight of your ready-to-wear fabrics will help you select the right legwear.
Opaques generally look best with heavier fabrics like woolens.
Shears look great with light weight fabrics like light weight cottons, silk, etc.
Stockings in the same color as your outfit will give you a slimmer and taller look.
When to Wear Neutral Color Sheers
Go Without Hose or Wear Stockings?