Can you wear silver & gold together? My friend wore a black knit top that had gold 3/4″ buttons on each shoulder with a long sliver beaded necklace.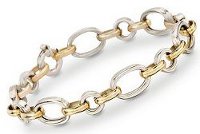 Silver and gold jewelry were never worn together years ago. However, for quite awhile it has been considered very chic and stylish to wear both together (gold and silver) if the combination looks good with what you are wearing. There are also many jewelry accessories that combine gold and silver together.
Read More:
MATCHY, MATCHY OR NOT!
Matchy, matchy or not! In my showroom, Moxie, at the San Francisco Gift Center, those two philosophies are embodied in my showroom manager, Silvia Cuadra, a very stylish Latina fashionista, and myself with a bit edgier outlook on the fashion game.
Ten Jewels Every Woman Should Own
Jewelry is more than the finishing touch to an outfit; in some cultures, it's the entire outfit. How do you start to build the perfect jewelry wardrobe-for yourself or for someone special? You could turn to what many consider the world's foremost authority on gems and jewelry, the Gemological Institute of America, or GIA, to guide you through the "bauble basics." First, remember to keep it simple, yet stunning and precious. Fine jewelry is meant to be worn, enjoyed and treasured forever.
How to Wear Colorful Jewelry
Even women who love color are sometimes concerned about how exactly to wear colorful jewelry. It's easier than you think! And certain to help make your personal style and flair shine through in a most distinctive and beautiful way.