Should you wear pantyhose or stockings for a job interview?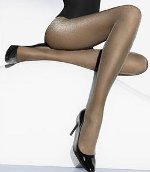 Wearing pantyhose stockings, or tights for a job interview depends on the job you are seeking, the company's image and what you are wearing for the interview. For a corporate or high level executive job you should wear pantyhose, stockings or tights. They give you a more polished look. You should also wear them for a job position in a law firm, bank/finance job or a company having a corporate, formal image. If the job you are after is an Internet start-up you can probably go without stockings or pantyhose if your legs look good. You want to make a good first impression so if you don't want to wear stockings or pantyhose  and/or your legs do not look great, wear pants for the job interview with closed toe pumps.
Read More:
What to Wear to a Job Interview
In most traditional white-collar industries, like finance or accounting, professional business dress is appropriate for a job interview. A conservative suit, meaning a solid color (navy, gray, black or brown) or a tiny pinstripe, is best.  Add some interest to a solid color suit with a stripe or print shirt and scarf at the neck. If you choose a pin stripe suit, a solid color blouse and a scarf will work best.

How to Dress For a Job Interview
It is a well-known fact that the first impression that someone gets of you counts big time. Today job interviews are more involved when looking for an important job. You want to land the position or to be asked to come back for another interview when necessary. Your clothing and the color(s) you wear can help you make a good first impression.

How to Dress for a Successful Job Interview
The job market at the moment is VERY competitive. I know…I am one of the competitors! Much of what goes into looking for a job is important. Your resume has to look good to get you in the door.  Most people are so excited when an interview comes around that often what to wear to the job interview becomes more of an issue than it used to be.  Believe it or not what you wear is a bigger part of a great first impression than you imagine. Good first impressions are so important!!

Follow 4FashionAdvice.com's board Career Fashion & Tips on Pinterest.