What to Wear to a Job Interview
Job Interview Attire
Traditional White-Collar Industries
In most traditional white-collar industries, like finance or accounting, professional business dress is appropriate for a job interview. A conservative suit, meaning a solid color (navy, gray, black or brown) or a tiny pinstripe, is best.  Add some interest to a solid color suit with a stripe or print shirt and scarf at the neck. If you choose a pin stripe suit, a solid color blouse and a scarf will work best.
A pearl necklace and/or just a pair of pearl stud earrings are always in good taste. The skirt should be knee length and shoes should be the same color as your suit with 2 ½ to 3 inch heel closed toe pumps.
If you are going back for more than one job interview the same suit is fine, but wear a different blouse and accessories. The way you present yourself is very important and a good first impression might mean getting that second interview.  A classic suit is an investment; so purchase a quality one that you can wear for many years.
Should you wear a pantsuit to a job interview? A suit with a skirt gives a feminine impression. If you are short, overweight or have heavy or bad legs, a pant suit is probably a better choice.
A different color jacket is good if you are very tall. However, you will appear less formal if you are not careful.
Creative Fields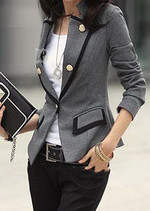 There may be more confusion about what to wear for a job interview in more creative fields, like advertising, public relations, graphic design and information technology.  If you are being interviewed for a job in one of these industries it is alright to ask about dress codes when setting up the interview. It is also a good idea to check out the company's website for hints as to what people are wearing or ask someone that works for the company. For these interviews, it is always better to error on the conservative side.  A casual classic look in good taste might be a navy blazer with a khaki skirt (knee length) and a blue & white or red & white stripe shirt with a red, white & blue scarf at the neck (tucked in your shirt collar). Also, tailored slacks and shirt with a scarf at the neck looks good with a cardigan sweater or jacket. Show off your creativity with some original jewelry.
Fashion Advice: Must Do's:
Strive for a clean and neat appearance.
Be prepared: plan ahead and try on your outfit before you get the interview.
Wear clothes that are not be too tight or baggy; see your tailor for the perfect fit.
Wear shined leather shoes, closed toe pumps are the best choice.
Your handbag must be in proportion to your size,
leather is best and the color should match your shoes.
Wear stockings or tights for a more polished look. Sheer black stockings look good with black shoes and black, navy or gray dresses or suits.
Have a flattering (simple) hair style and well-groomed finger nails with clear or no polish.
Go light with the make-up and
Forget the perfume.
Read More:

How to Dress For a Job Interview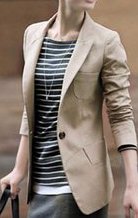 Wear to a Casual Job Interview
 

It's better to be under dressed than overdressed!
Save
Save
Save
Save
Save
Save
Save