What color shoe should I wear with a midnight blue sequin dress to the theatre? The dress is off the shoulder & above the knee with a slit on the side. I cannot wear stilettos.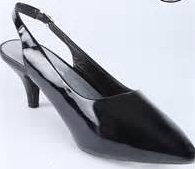 Your midnight blue sequin off the shoulder dress sounds like a show stopper. If you can't wear high heels look for a pair of 2″, closed toe, black patent leather sling back style shoes. Slingback style shoes look dressy and you should be comfortable walking in them.
Read More:
10 Tips For Getting A Proper Shoe Fit
The size of your feet changes as you grow older so always have your feet measured before buying shoes. The best time to measure your feet for the best shoe fitting is at the end of the day when your feet are largest.
Footwear Basics
Shoes can make or break an ensemble. In addition to choosing the right style and fit, caring for your feet and your budget are also essential considerations. Shoes are an investment therefore buy the best you can afford.
Statement Shoes: Platforms
Some platform shoe styles can add 4 or 5 inches to your height (or more?). Agreed looking taller and slender is appealing, and quite a few of us can benefit from adding a few inches to our legs. However, blurred by our long leg dream, the platforms have taken over our common sense. Perched on unstable blocks, we stomp the street unfortunately failing to realize how ungracefully we move.