What color stockings & accessories should I wear with a midnight blue dress? It's for my son's wedding. The midnight blue lace dress has a nude colored underlay. I don't need a necklace.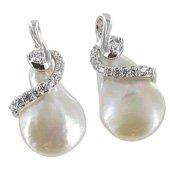 Your Mother of the groom outfit sounds fabulous.  Sparkly (quality rhinestone or diamond), pearl, pearl and sparkly or silver earrings would look lovely with your dress and draw attention upward to your head area. Bracelets are optional. Nude color shoes or black patent leather shoes will look good with a midnight blue dress. Ultra sheer, neutral color stockings will give you a polished look with closed toe pump or slingback style shoes.
Read More:
What Should the Mother of the Groom Wear?
You are the Mother of the Groom. You want to look great and make a good impression at your son's wedding. How do you begin to choose an outfit? It is a good idea to talk to the bride about her color scheme for the wedding and find out what type of wedding she is planning (daytime or evening).
When to Wear Neutral Color Sheers
Whether it's a luncheon, party, wedding or dinner dance many women are still confused about when to wear sheer hosiery / sheer stockings. Common sense says to make the right style choice women need to consider the weather, their age, what they are wearing (skirt or pants), type of footwear and where they are going, a casual or more formal venue.
Sheer Stockings – This Seasons Style Choice
Thank goodness for the "Duchess of Cambridge," who cannot be seen without sheer stockings, and celebrities like Lady Gaga, Rihanna and Beyonce` for wanting flawless looking legs.  Now a polished look for day and evening is back with neutral sheers.