Should I wear a red belt & matching red shoes? I have a black and white dress with a geometric pattern.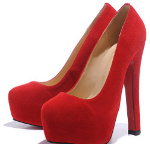 You can definitely wear a red belt and red shoes with your black and white geometric pattern dress but carry a black bag so you don't look too matchy, matchy. You can also wear a red bag with a red belt and black shoes. Another idea would be a red bag and red shoes with a black belt. A black and white geometric print dress sounds like a classic. Black and white combinations are always in style and you can wear them with a variety colored accessories.
Read More:
Handbags, Scarves and Belts
Women's fashion accessories such as handbags, scarves and belts allow you to vary your basic clothing. The accessories you wear should go together. Two accessories in the same color are enough. For example if you are wearing a gray dress with a red belt. You can add a scarf that has grey, red and black in it. Then wear black shoes and carry a black handbag. Stylish women over time have pulled an entire outfit together, developed their individual style and / or added a final touch to their outfits with the right accessories.
Finishing Touches: Belts
No matter what time of the year belts are a popular accessory and are a way to define your waistline. You can belt a suit, coat, or dress for a new and /or put together look. Belts with interesting buckles are another way to add some style to your clothing. They are a way to give a basic outfit like a LBD (little black dress) different personalities or an updated look. For example a snakeskin, leopard print or a metallic belt can give your LBD three different looks.