Handbags, Scarves and Belts


Accessories Can Make or Break an Outfit
Women's fashion accessories such as handbags, scarves and belts allow you to vary your basic clothing. The accessories you wear should go together. Two accessories in the same color are enough. For example if you are wearing a gray dress with a red belt. You can add a scarf that has grey, red and black in it. Then wear black shoes and carry a black handbag. Stylish women over time have pulled an entire outfit together, developed their individual style and / or added a final touch to their outfits with the right accessories.
Selecting a Handbag

Invest in Quality
Before you buy make sure that your bag is well made. Check the stitching to make sure it is secure. Make sure the zipper works properly and in the case of a cotton bag, that the zipper doesn't get caught in the material. A good quality, classic purse will last for many seasons. When making a purchase, keep in mind how often you will want to use it and what it will match.
The Right Size and Shape
Your bag should be in proportion to your body. If you are small do not carry a huge bag, it will overwhelm you. Large and/or tall women should carry larger bags. The key is keeping your bag in proportion to your size. Choose a shape that is the opposite of your body type.
Round shape figures should wear more structured bags. Wear close-fitting handbags if you are thin; they are not good if your arms and busts are large. A bag that hits mid torso will flatter most figure types. Try several sizes and shapes on and observe in a mirror before you buy.
The Occasion
A black leather purse can be versatile and can be used for many occasions. However it won't work at the beach or very formal situations.
Your Bag Should Complement Your Outfit
If you dress in one color, choose a handbag that matches the accessories you're wearing. A solid color works best with pattern or print outfits (choose one of the colors in the pattern).
Common Handbag Shapes:
Clutch – a handbag without handles that is carried in the hand.
Satchel – a handbag with a shoulder strap.
Pouch – a drawstring bag.
Totes – are worn over the shoulder and fall in the middle of the body, around the elbow. Usually they provide a lot of space for the user.
Duffel – cylindrical shaped handbag.
Hobo – a crescent-shaped bag.
Selecting and Wearing Scarves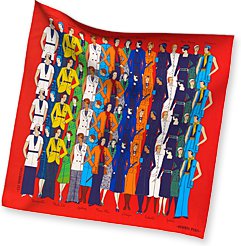 Scarves are a wonderful way to spice up an outfit, casual or dressy. They are available in numerous shapes and colors. Scarves can be used for hat bands, headbands, belts, tops and beach cover ups as well as tied around your neck in different styles. As with all accessories in general, smaller scarves work better on small women and larger size scarves are best for tall and/or large women. Also, a scarf around your neck is a great cover up for necks that are unattractive. After 40 years of age, most necks get unpleasant lines, etc. A lovely scarf around the neck hides all and helps give one a more youthful look. If possible remove tags before you wear a new scarf.
Belts

A narrow belt is better if you do not want to call attention to your waistline.
Wide waist belts will call attention to your waist area. Good for small waisted women.
A colored, print or decorated belt will call attention to your waistline. They work best on small waisted women and tall thin types.
In general match your belt color with what you are wearing or your shoe color. When you wear a different color belt than the color of what you are wearing it will cut you in half. They work well if you are very tall and slim.
Be sure your belt fits correctly.
Leather belts work for any occasion.
Silver buckles look good with silver jewelry and gold/brass look good with gold jewelry.
Canvas, fabric, with grommets, etc are best for a casual look .
Large buckles and fashion belt buckles will call attention to your waistline.