What styles & colors of shoes would look best with a navy blue cocktail dress?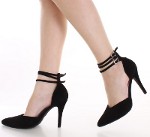 As far as styles go, you can wear sandals, sling backs, peeptoes, or pumps with a cocktail dress. Choose neutral shoe colors like silver, cream/beige, black suede or black patent leather. All will work with a navy blue cocktail dress. Closed toe slingback style shoes or closed toe pumps would look very chic and can be worn with stockings for a more polished look. Always try different style shoes and accessories on with your dress. See which looks best and choose what you feel most confident wearing.
Read More:
Sheer Stockings – This Seasons Style Choice
Thank goodness for the "Duchess of Cambridge," who cannot be seen without sheer stockings, and celebrities like Lady Gaga, Rihanna and Beyonce` for wanting flawless looking legs.  Now a polished look for day and evening is back with neutral sheers.
Statement Shoes: Platforms
Some platform shoe styles can add 4 or 5 inches to your height (or more?). Agreed looking taller and slender is appealing, and quite a few of us can benefit from adding a few inches to our legs. However, blurred by our long leg dream, the platforms have taken over our common sense. Perched on unstable blocks, we stomp the street unfortunately failing to realize how ungracefully we move.
A Girl and Her Heels
I would rather be in pain wearing 4 inch Christian Louboutin heels than wearing something more sensible. I only own one pair of these so I wear them ALL the time, well until recently when the heel broke…does anyone know a good cobbler? (my CL's were a 35th Birthday gift to myself.)

Save