What color pants can I wear with a navy blazer?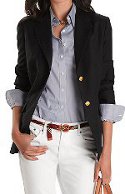 A navy blazer is one of the most versatile wardrobe basics a woman can have in her closet.  Blazers / classic blazers can be worn to work, for evening events and on weekends for a put together look.  A variety of colors will work with a navy blazer. Reds, grays, and khaki's are the most popular colors with a navy blazer, but black will work too.  Wear navy blazers with your favorite jeans for casual events, or with dressy pants (satin, velvet, sequin, metallic) to a cocktail party or an evening event.
Read more: How to Wear A Blazer
Blazers are a must have classic for the stylish woman's wardrobe. The classic navy double-breasted blazer with metal buttons is a traditional winner and can be worn everywhere, giving you a put-together and chic look.
Tim Gunn's 10 Must-Have Basic Wardrobe Pieces
The blazer sounds very masculine, but when you get the right one with a proper shape it is not. Women's blazers should follow the silhouette of a woman's body and accent the hourglass curve at her waist. It is also a perfect piece to put with the skirt or dress pants, and white shirt. Or make it casual with a pair of jeans.
There is no perfect basic wardrobe that applies to all. A basic wardrobe takes into consideration lifestyle or clothing for all of our activities. If you are a hockey coach your wardrobe is going to be a lot different than a corporate lawyer's. However when we choose a basic article of clothing it is something we should plan on wearing many times (getting our money's worth).