What color hosiery should I wear? I have a multi colored skirt with a black jacket. The skirt has brown, green & black splashes of color on a cream background.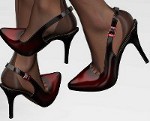 If you are wearing neutral cream or black color shoes ultra sheer neutral / beige color hosiery should be very stylish. If you are wearing black shoes you can try black sheer or black opaque hosiery or black tights. Your dress sounds very nice. Experiment with the different shoe color and stocking options and wear what you think is most flattering on you.
Read More:
Sheer Stockings – This Seasons Style Choice
Thank goodness for the "Duchess of Cambridge," who cannot be seen without sheer stockings, and celebrities like Lady Gaga, Rihanna and Beyonce` for wanting flawless looking legs.  Now a polished look for day and evening is back with neutral sheers.
When to Wear Neutral Color Sheers
Whether it's a luncheon, party, wedding or dinner dance many women are still confused about when to wear sheer hosiery / sheer stockings. Common sense says to make the right style choice women need to consider the weather, their age, what they are wearing (skirt or pants), type of footwear and where they are going, a casual or more formal venue.
10 Tips For Getting A Proper Shoe Fit
The size of your feet changes as you grow older so always have your feet measured before buying shoes. The best time to measure your feet for the best shoe fitting is at the end of the day when your feet are largest.