What type of wrap can I wear with a pink dress? The dress is silk, knee length, sleeveless, & lined. It is for a dinner party in Napa Valley.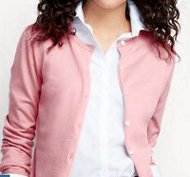 A cashmere or silk/cashmere blend cardigan sweater would look very nice with your pink dress. You can also look at pashmina shawls and capes. They come in a variety of fabrics and fabric combinations and would look stylish with your pink dress. Your pink dress will be perfect for a dinner party in Napa Valley in November. A silk dress is always "in style" any season of the year.
Read More:
Shopping for a Cardigan Sweater
Over the last several years, we have seen the cardigan sweater emerge as a garment that projects authority, a casual/comfortable authority. Anna Wintour, the British editor, whose opinion influences the fashion world was seen wearing them in the movie, "The September Issue", a documentary about the creation of Vogue's 2007 biggest issue ever. Michelle Obama wears them on occasion over dresses, skirts and pants.
The Cape Trend
The cape trend is modern, chic and stylish. By definition a cape is a sleeveless outer garment that fastens at the neck and may have a hood. Capes are festive, and magical. They come in a variety of lengths and fabrics. Capes are more versatile than coats and are perfect transitional pieces going into new seasons. They work well when worn over a jacket or layers. They look stylish with slim silhouettes that offset the cape's volume. Slim pants or jeans with tights and boots look very stylish with capes.

Follow 4FashionAdvice.com's board International Fashion Trends on Pinterest.