What would look super for my date to wear that would match my gold sequin homecoming dress? My date wants to wear Vans for shoes & possibly a bow tie and/or suspenders. We were thinking maybe purple & gold because we live in Louisiana & support our LSU Tigers.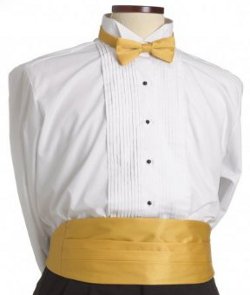 What males wear to homecoming varies from school to school. Some males favor traditional attire (a classic black tux) and some males enjoy expressing themselves and making their own statement. If your date wants to make a statement something in purple and gold with suspenders and / or a bow tie and Vans should look awesome with your gold dress.  If your date wears something more traditional the focus of attention will be on you and your gold dress.
Read More:
Dressing for a Date! – Get it Right!
A first date to the cinema to watch Scooby Doo is a far cry from a graduation ball or a black tie dinner. Guy's or gals need to consider where it is they're going. It goes without saying that he or she will be hoping to impress, so at least make sure sufficient levels of effort and scouting have gone into what's expected.
Party Dress Codes
It is almost always exciting and fun when a party invitation arrives. However sooner or later we have to start to think about what we will wear. When types of "dress codes" are indicated such as "smart casual", "semi-formal," "vineyard casual", "festive",  "cocktail chic" or etc. it can throw us for a loop. Where should one begin to figure out what any of these types of dress codes mean?