What would be the best color shoe & heel height to wear with a charcoal gray dress? The dress reaches mid thigh? I have a wedding next weekend in Tahoe, CA.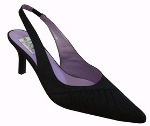 As far as heel height, if you will be standing around a lot think of wearing a midi heel height. A gray dress looks good with a number of different color shoes. Look at black, pewter, silver, bronze or red color shoes. Also take into consideration what color bag you would like to wear and stocking color when deciding on what color shoes to wear. A mid thigh dress is a short dress.
Read More:
MATCHY, MATCHY OR NOT!
Matchy, matchy or not! In my showroom, Moxie, at the San Francisco Gift Center,  those two philosophies are embodied in my showroom manager, Silvia Cuadra, a very stylish Latina fashionista, and myself with a bit edgier outlook on the fashion game.
The Art of Layering Jewelry
Layering is a popular asset when it comes to personal style and layering jewelry is a great way to make your own unique fashion statement to any outfit! So here are a few ways to inspire and cultivate your current jewelry wardrobe.
Intimate Must Haves
Beverly Weinkauf, owner Toujours (www.toujourslingerie.com) — a tiny shop offering a selection of fine intimate  lingerie designed to make women more attractive and sexy, says lingerie has always reflected the lifestyle and female fashions of the day. She selects styles based on quality, how well they are designed and how well they fit. She has been in business for twenty years and has seen a number of changes in women's intimate lingerie over the years. We asked Beverly to list the essential intimate lingerie.