What style & color of shoes & pantyhose look best with a maroon color dress? The dress is a "dressier" style with a "V" neck, three quarter length sleeve & falls above the knees? I will be wearing it to a winter wedding.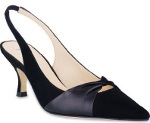 Your maroon color "V" neck dress will look great for a winter wedding. Since you describe the dress you are wearing as "dressier" look at black suede or black patent leather slingback style shoes. Sheer black stockings / pantyhose would look very stylish with a maroon color dress. If you want to be more covered up you can wear black opaque stockings.
Read More:
What Should the Wedding Guest Wear?
Be a stylish wedding guest! Weddings are to celebrate, occasions to dress up. The wedding invitation provides the information to help you decide what to wear. Daytime (morning and afternoon) weddings are more casual than evening or formal weddings. Today any color is appropriate with the exception of white which is reserved for the bride.
The Art of Layering Jewelry
Layering is a popular asset when it comes to personal style and layering jewelry is a great way to make your own unique fashion statement to any outfit! So here are a few ways to inspire and cultivate your current jewelry wardrobe.
Accessorize Like the French
The French chic know how to transform their look with accessories. They accessorize to change the look of their neutral color, classic, basic style clothing. French women know how to add a trendy accessory every season.  They accessorize their basics with one or two other colors. They always buy trendy items that go with what they have in their closet.  A good quality bold, splashy color handbag or a trendy detail like a new shade of lipstick will accessorize a basic.