What style & color of dress & accessories would look the best on the mother of the groom? My son is having a formal wedding in November at a country club. The bridal party is wearing dark teal dresses & shirts & my husband is wearing a black tux with a white shirt. I weigh 238 lbs & I am 5'6".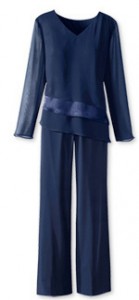 A style and color outfit that flatters you is one of the most important  decisions you need to make. You will be on stage at the wedding. Since you are overweight for your height, a dark color (navy blue) long style dress or pant suit (in a dressy fabric) will give you a slimmer appearance and look good with the dark teal bridal party dresses. Talk to a personal shopper at a department or bridal store to help find the most flattering solution. My pick would be beautiful navy blue pants and navy blue top in a dressy fabric with statement earrings, black shoes and  black clutch. An up to date hairstyle and flattering makeup will draw attention upward away from your body and will highlight you face. The country club venue for your son's wedding sounds fabulous.
Read More:
What Should the Mother of the Groom Wear?
You are the Mother of the Groom. You want to look great and make a good impression at your son's wedding. How do you begin to choose an outfit? It is a good idea to talk to the bride about her color scheme for the wedding and find out what type of wedding she is planning (daytime or evening).
Accessorize Like the French
The French chic know how to transform their look with accessories. They accessorize to change the look of their neutral color, classic, basic style clothing. French women know how to add a trendy accessory every season.  They accessorize their basics with one or two other colors. They always buy trendy items that go with what they have in their closet.  A good quality bold, splashy color handbag or a trendy detail like a new shade of lipstick will accessorize a basic.
Let's Talk About Color(s)!
Sometimes a widely announced new color truly does dominate a season, other times colors seem to come out of nowhere. But have you noticed that in general there seems to be quite a bit of coordination between the clothing world, the gift world, and the industrial/interior design world regarding color? Why?