What style & color of shoes should I wear with black sequin shorts? What's the best top?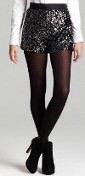 Black sequin shorts sound awesome and for a special occasion! Black sequin shorts would look chic with a black or white silk, satin or velvet top that flatters your figure type. Black peeptoe shoes, pumps or ankle boots with sheer or opaque black tights / pantyhose would look good with your outfit. Experiment with some different tops and shoes to get the look you want!
Read More:
10 Tips for Wearing Sparkles and Metallic
Cardigan sweaters, denim or leather jackets and blazers look great with sequin or metallic dresses, skirts or pants.
What Message Are You Sending By The Colors You Wear?
Believe it or not what colors you are wearing can describe how you are feeling and what type of person you are. If you are wearing red or yellow you will be noticed fairly quickly. These colors are  good "attention getters." You are probably an outgoing, confident, and warm person with high self-esteem.
How To Wear Color and Look Great
Colored clothing is popular in all seasons. Bold, bright colors, give you a youthful and energetic look. Plus they will certainly cheer you up, and they will also attract attention to you.
Follow 4FashionAdvice.com's board International Fashion Trends on Pinterest.