What jewelry is appropriate with a black dress trimmed with gold buttons? Wearing to an afternoon wedding. Shoes will be black dress heels. I am looking for a classic look. Wedding will be outdoors.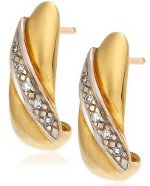 A black dress with gold buttons would look fabulous with pearls and give you a classic look. You can also try pearls with gold, gold with sparkly or gold jewelry. Try your dress on and experiment with your jewelry options. The pieces you choose will depend on what your dress looks like and the neckline. You might want to wear only earrings or you can wear gold earrings with a pearl necklace. If your dress is extremely dressy diamond studs might be enough. Less is more elegant when it comes to jewelry!
Read More:
The Little Black Dress, The Wardrobe Essential
"The Little Black Dress" has been described as sophisticated, sexy, provocative, chic, elegant, practical, seductive, correct, and ageless.
The Art of Layering Jewelry
Layering is a popular asset when it comes to personal style and layering jewelry is a great way to make your own unique fashion statement to any outfit! So here are a few ways to inspire and cultivate your current jewelry wardrobe.
Tim Gunn's 10 Must-Have Basic Wardrobe Pieces
Tim Gunn's must have 10 basic wardrobe pieces and a bonus must have that every stylish woman should have in her wardrobe. These basic wardrobe pieces are timeless and great clothing investments.
Follow 4FashionAdvice.com's board Street Style on Pinterest.