What is the difference between gaucho & culotte style pants?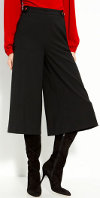 Gaucho and culotte style pants are very similar. Gaucho pants are more tailored pants that are fitted in the hip area but flare out at the calf. They are more like cropped pants. Culottes are full pants that look like a skirt and can very in length. Both styles can be dressed up or down depending on your footwear. Boots look very stylish with gaucho pants and heels look great with fuller style culotte pants. In general both styles look better on taller women. Experiment to see if they are right for you.
Read More:
Culottes are Cool!
Culottes were trendy this spring and continue to be hot fashion for fall 2014. Culottes generally are cropped, wide leg pants that fall somewhere between the calf to above the ankle. The fashion forward women have been wearing them all summer to barbecues and weddings and they are perfect transitional pieces that can take you into fall if you bought a pair.
Pants that Fit and Flatter
Pants that fit and flatter are comfortable and can give you a stylish look. Trial and error are the best way to finding pants that fit perfectly but well worth the effort. Great fitting pants are  for just hanging out or add a jacket and can give you a more professional appearance. Below are tips for finding pants that fit you perfectly and are flattering.
Follow 4FashionAdvice.com's board Street Style on Pinterest.