What do you wear to a top lawyer fundraiser? It is for alumni of Notre Dame University being held in Chicago from 4:00-7:00 PM?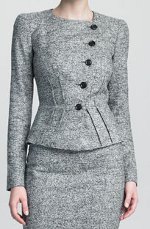 Sounds like a professional crowd will be attending this fundraiser function. It will be a great place to make a solid impression with guests. A stylish suit in a solid color, a dress with a color coordinated jacket, or skirt or pants with a color coordinated jacket will look very nice with some elegant earrings and classic pump style shoes.
Read More:
Power Dressing
Senator Clinton agreed to appear on the February cover of VOGUE then bowed out, saying that being on the magazine would make her seem "too feminine" in her race for the presidency.
Heel Heights and Hemlines for Business
I can't remember when there have been so many choices in shoe styles and hem lengths. It seems like anything goes! But not for business attire!
Office Fashion and Etiquette
Fashion, your appearance and office etiquette, say a multitude about you and can determine how far up the ladder of success you'll be going. When it comes to fashion at your office know what position and / or title you want to achieve and dress for that position. The way you present yourself says whether you are " on the ball".