What do you wear to an office (work) Bar-B-Q party?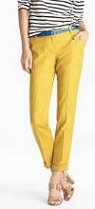 An office Bar-B-Q party sounds like fun. It is always smart to dress more on the conservative side when attending any office (work) related functions. Bar-B-Q parties are casual. Casual clothing that flatters your body shape like pants (cropped) or bermuda shorts (knee-length) and a top that coordinates with your shorts or pants will work. Your top should not reveal  too much flesh. Wedge or sandal style shoes would go with a casual outfit. Don't let your guard down, you are always being observed by other workers and your boss.
Read More:
Business Casual for Women
Business casual attire for women continues to pose a challenge for many women that are serious about climbing the corporate ladder. "Casual" implies laid back or not serious. However an office environment means business. it is important to choose your business casual clothes carefully. You are being judged whether it is a regular workday day or casual Friday's. When dressing for a casual workday it is prudent to stick close to your normal business attire.
Follow 4FashionAdvice.com's board Career Fashion & Tips on Pinterest.