What do you think about floral skirts with boots in a cold weather?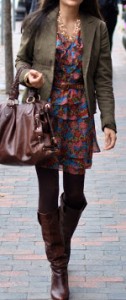 Today floral prints are popular spring, summer, fall & winter. Boots look especially nice with dark floral prints in the winter. Today there are few rules regarding when to wear what. Whether you should wear boots with a floral print in the winter comes down to whether they look flattering on you and right for the event you are planning to attend.
Read More:
Season of the Shoe
It is the season of the shoe. There seems to be a move away from the platform shoe and stiletto heels this Fall. The fashion forward and early adopter divas will be dancing the night away in evening sneakers with cocktail dresses or evening gowns and wearing pointy toe oxford flats with slouchy pants and loose dresses.
Shoes Every Woman Must Own
Shoes have tremendous transformative power. They can make or break your look, and along with that your mood. But too many of them require you to be too careful when you have them on. While the diversity in the shoe department is like a gift from God, it also makes us lose sight of which are the must-haves and which are simply there because they look good but don't necessarily do anything for you.