What color wrap or coat should I wear? I will be wearing a sapphire blue lace dress & silver shoes to attend a wedding. It looks like the weather will be cool.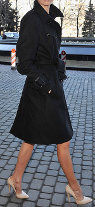 A wrap or coat in a neutral color like black, khaki or pewter/gray will work with your sapphire blue dress and silver shoes. You can also look at capes or jackets in neutral colors to wear over your dress.  A classic trench coat in a neutral color is fashionable and a good investment that will last for many years. Sapphire blue is so beautiful and will look great with silver shoes and a silver bag.
Read More:
What is A Good Investment in Clothing?
We have a tradition in our family.  We go to a movie every day during the holiday season from December 25th right through to New Year's Day. It's a fun tradition that I always look forward to. One of my favorite movies was "Up in the Air." George Clooney plays the main character, an executive, who travels around the country to fire people. He has no life to speak of.  He carries all he needs in one wheel-away suitcase.
Tim Gunn's 10 Must-Have Basic Wardrobe Pieces
Tim Gunn's must have 10 basic wardrobe pieces and a bonus must have that every stylish woman should have in her wardrobe. These basic wardrobe pieces are timeless and great clothing investments.
10 Items Every Woman Must Own
Every woman has certain "must haves" in their life. These often involve clothing that needs to be a staple in every woman's wardrobe. Here are 10 items a woman must have in her wardrobe.
Follow 4FashionAdvice.com's board International Fashion Trends on Pinterest.