What color tights will go with a white dress with gold accents & red boots? The red boots are ankle style with gold stiletto heels.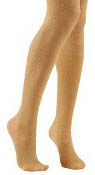 Red boots with gold heels will pick up the gold accents in your white dress. Look for sheer tights with a gold shimmer or champagne color tights with some shimmer. Sparkle Fishnet" tights / pantyhose might be another option. You can try all three to see how the different color hosiery looks with your dress and ankle boots. Also, consult your local hosiery boutique for new stockings with gold shimmer. Your outfit sounds very fashionable and edgy.
Read More:
Shoes Every Woman Must Own
Shoes have tremendous transformative power. They can make or break your look, and along with that your mood. But too many of them require you to be too careful when you have them on. While the diversity in the shoe department is like a gift from God, it also makes us lose sight of which are the must-haves and which are simply there because they look good but don't necessarily do anything for you.
When to Wear Neutral Color Sheers
Whether it's a luncheon, party, wedding or dinner dance many women are still confused about when to wear sheer hosiery / sheer stockings. Common sense says to make the right style choice women need to consider the weather, their age, what they are wearing (skirt or pants), type of footwear and where they are going, a casual or more formal venue.
Follow 4FashionAdvice.com's board Legwear on Pinterest.