What color shoes & jewelry can I wear to a wedding rehearsal dinner? I'm wearing ivory lace, wide leg pants & a black sheer baby doll shirt that's trimmed in ivory lace. I don't mind being a little edgy.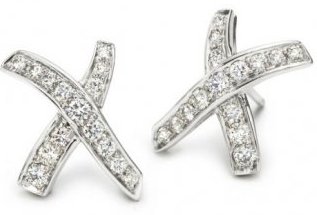 Your outfit for a wedding rehearsal dinner sounds awesome! Ivory color shoes will look stylish and good with your ivory color lace pants and black top trimmed in ivory lace. Ivory color shoes will allow you to draw attention upward to your face area with a pair of beautiful earrings. Simple style sparkly (quality rhinestone or diamond) earrings or earrings in gold or silver should look beautiful with your outfit. Experiment with some different earrings to get the look you want.
Read More:
How to Choose the Best Earrings for You
A lot can be learned through trial and error when it comes to choosing earrings. The true test is checking the mirror to see how they look on you with the outfit you are wearing. To find the best earrings for you It is important to determine your face shape. Next when purchasing and wearing earrings consider the earring size, and shape, and your skin tone. If you have tiny features something lighter looking will suit you best. The opposite is true if you are a large woman, a larger size will flatter you.
Statement Shoes: Platforms
Some platform shoe styles can add 4 or 5 inches to your height (or more?). Agreed looking taller and slender is appealing, and quite a few of us can benefit from adding a few inches to our legs. However, blurred by our long leg dream, the platforms have taken over our common sense. Perched on unstable blocks, we stomp the street unfortunately failing to realize how ungracefully we move.
Jewelry Essentials
Like a basic clothing wardrobe you can build a basic collection of jewelry with a few pieces that can be worn for many years and on numerous occasions. The two most important considerations when choosing jewelry are quality and choosing pieces that compliment you. For instance, you should choose pieces according to your face shape, hair style, hair color, skin tone, and body proportion. Remember to buy the best that you can afford! A purchase of fine jewelry is a worthy investment.