What color shoes should the grandmother of the bride wear with a navy blue dress with purple tones?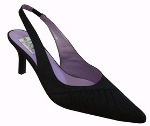 How lucky to be the grandmother of the bride. Black patent leather pumps are very "in style" this fall and black suede shoes are always elegant  with a navy blue dress. Silver or pewter color shoes are festive looking and would be great with a navy blue dress with purple tones also. A low heel slingback style shoe in any of the colors mentioned would look dressy and be comfortable if you will be doing a lot of standing. Try the different options on and do a mirror test with your dress and wear the shoes that are most flattering.
Read More:
What Should the Wedding Guest Wear?
Be a stylish wedding guest! Weddings are to celebrate, occasions to dress up. The wedding invitation provides the information to help you decide what to wear. Daytime (morning and afternoon) weddings are more casual than evening or formal weddings. Today any color is appropriate with the exception of white which is reserved for the bride.
Footwear Basics
Shoes can make or break an ensemble. In addition to choosing the right style and fit, caring for your feet and your budget are also essential considerations. Shoes are an investment therefore buy the best you can afford.