What color of scarf / shawl should I wear with a dark purple dress & silver shoes?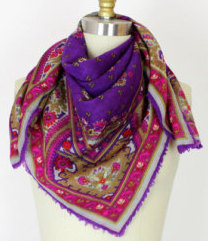 You have a number of scarf color choices if you are wearing a silver bag with your silver shoes and deep purple dress . A lighter purple (lavender) scarf or something in pink or pewter color will work. Sometimes you can find a paisley or print scarf with deep purple in it that will also work.
Read More:
Essential French Style, The Scarf
A visit to Paris confirms that essential French style is a scarf. The scarf is an important part of French style in every French woman's wardrobe. Scarves keep you warm, and they improve the look of any outfit. Scarves give women French style a more worldly, sophisticated, and refined look.
Instant Style: The Scarf
We have the "It" Handbag, the "It" Shoe and now the "It Scarf". During the last few years we have witnessed scarfs being worn day and night, on young and old, and for casual or dressy occasions. Not only do they come in different sizes (over sized for drama or soft silks for a feminine look) and in every color(s) imaginable, they can transform your look instantly.

Handbags, Scarves and Belts
Women's fashion accessories such as handbags, scarves and belts allow you to vary your basic clothing. The accessories you wear should go together. Two accessories in the same color are enough. For example if you are wearing a gray dress with a red belt. You can add a scarf that has grey, red and black in it. Then wear black shoes and carry a black handbag. Stylish women over time have pulled an entire outfit together, developed their individual style and / or added a final touch to their outfits with the right accessories.