What color heels would go best with teal color bridesmaid's dresses, gray or nude? The bridesmaids are wearing teal (bluish green) dresses & instead of bouquets of flowers they will be carrying bamboo fans.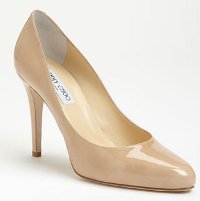 Nude / beige color heels will look great with the teal color bridesmaid's dresses. The nude / beige heels will pick up the neutral / beige color in the bamboo fans. Your teal color bridesmaid's dresses sound fabulous and fans instead of flowers will add a unique style to their outfits and the wedding ceremony.
Read More:
Selecting Bridesmaid's Dresses
One of the first duties of every bride-to-be is to choose her bridesmaid's dresses and the maid of honor dress and decide what colors and / or style of dresses she would like them to wear at her wedding. It is considerate to discuss with the bridesmaids the style and color of dresses they would prefer to wear on the wedding day.
Ways to Get a Great Bra Fit
Knowing how to find the right size bra now will help you with your health and your self esteem for the rest of your life! Whether you have questions about how to bra should fit, or simply how to pick one out, the below tips will make sure you get a great fit for the rest of your life.
How To Wear Color and Look Great
Colored clothing is popular in all seasons. Bold, bright colors, give you a youthful and energetic look. Plus they will certainly cheer you up, and they will also attract attention to you.
Follow 4FashionAdvice.com's board Bridesmaid's Dresses on Pinterest.