Why Use A Professional Makeup Artist? 
Why Use A Professional Makeup Artist? Bridal makeup is one of the most important makeup applications in your lifetime. Makeup trends come and go like fashion trends so brides should stay away from trendy colors and go classic when it comes to their big day. Brides from the 80's would have appreciated that advice when they chose blue eyeshadow, heavy blush, and red lipstick, let's not even go to the hair!
Be yourself! If you would never wear red lipstick or wear a dark smoky eye look when you go out, then it's probably best to stay away from the hottest, trendiest applications on your wedding day. You want to go for the most classic version of you. But of course, it doesn't hurt to glam it up a bit. For example, a couple of individual false lashes on the corner of your eyes will make a huge difference by opening up your eyes without looking like you're a doll with a heavy strip of eyelashes.
A professional makeup artist will reduce stress and surprises on your big day! To choose the right makeup artist get recommendations from friends or your wedding planner. It's a good idea to set up a trial run before your wedding day. Let the makeup artist know if it's an outdoor or indoor wedding for the appropriate makeup. If you'll be having black and white photos taken he or she will add more depth in the makeup application. You can look great in color photos but if you don't have enough makeup on or it looks too natural you will look like you have no makeup on at all.
Some makeup artist's use airbrush foundation. It goes on much lighter than regular foundation and it leaves a flawless finish without looking cakey. Best of all it lasts all day, reducing the need for constant touch ups. It might cost a bit extra but that's why you hire a professional makeup artist. Besides helping you look great they use the best quality cosmetics that won't smudge or run.
If a makeup artist is out of your budget you may have to resort to going to a department store cosmetics counter where you only have to buy a certain amount of their cosmetics instead of paying a fee. However it gets tricky being able to do a trial run, getting the same girl on the big day, and having to adhere to store hours which usually aren't till 10 am.
If you're thinking of DIY, don't do it. Don't put extra pressure on yourself and have an eyeliner meltdown that causes a panic attack on your wedding day. All in all, it's probably best to invest in yourself and use a good makeup artist and hairdresser.
Check with the make up artist you choose for a group rate for your wedding party. Everyone will have a cohesive look and will photograph well.  Last but not least don't forget the small details either. Get your eyebrows groomed, and have your facials done within a good time frame before the wedding day to prevent any skin disasters.  Remember wedding pictures last forever!
Read more tips at Wedding Books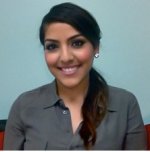 Celia Anaya
Guest Writer
Save