What can I wear to a reunion that will make me look "hot"? I am going to my 40th class reunion this year. I have lost 90lbs & am slimmer than I was in elementary school. I have a large bust & small bottom. The invitation says "casual" dress.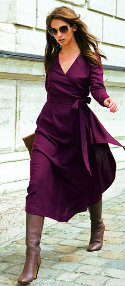 You can look fabulous at your 40th reunion. Congratulations on losing 90 pounds. It sounds like you have an inverted triangle figure type (large top, narrow hips). You can balance your figure type with a wrap dress, a full skirt or pants with side pockets and / or boot leg style pants. Experiment with some different casual pants and simple style "V" neck tops. Wear statement earrings or simple earrings and a pendant style necklace that drops in the "V" neck of your top. Flattering makeup and an up to date hairstyle will draw attention upward to your face.
Read More:
Dressing For Your Body Type
Knowing your body type/ shape is important. In order to look good you need to choose clothing styles that flatter you. Few if any of us have the "perfect figure."
Basic Make-Up Tips
Today make-up is like other fashion, anything goes if it works for you. That means taking into consideration your skin tone, activity, age, etc. Don't wear too much make-up. The more make-up you wear the older and cheaper you look. Below are some general guidelines on how to apply make-up.
Ombre Hair Color Technique
Ombre hair color that features darker, more natural hues at the roots with gradually-dyed  lightning at the ends. The ombre hair color technique has certainly found it's niche in this decade, winding it's way into the locks of celebrities and average women alike. Few trends take on such a life of their own as this one has, spawning a multitude of color variations as if to convey that no woman would be left out. From extremes in contrast to the sophisticated subtle gradation of warm honey hues, ombre leaves the wearer with endless possibilities, or at least as far as the imagination can take it.
Follow 4FashionAdvice.com's board Street Style on Pinterest.