Ways to Wear a Basic White Blouse
By Johanna Magnusson

Conveys a Very Professional Image
One of the best ways to spend your wardrobe dollars is on basics. These are items that will give you good "gas mileage". The basic white blouse is a mainstay in most women's closets. A plain white blouse / shirt for women is a staple that can add freshness to many casual and work outfits.
Even though a basic white blouse, it can be used to create quite a variety of looks. It can be dressed up or down, worn with women's business attire or casual work clothes. Some women call it a career blouse or suit blouse, and wear it traditionally with skirt or pant suits.
There are a few different ways to wear the white blouse collar. The most common way is to pull the collar of the blouse up and fold it flat over the lapels of the jacket. This look conveys a very professional image when worn with a woman's business suit. If you wear jeans on casual  Fridays, a white blouse collar over a suit jacket, makes the jeans look much more professional than if you just wore a collarless top with them.
Another way you can wear the collar is to fold it under the jacket, hardly showing it at all. This conveys a more casual feel. If you show up to a meeting and realize you are too formally dressed you can quickly pull the blouse collar down and fold it under the jacket. That makes a more relaxed impression.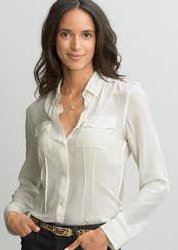 Casual but Still Well Dressed
For white blouses made of stiffer fabric, you can wear the collar straight up. This look is not conservative at all, and implies a certain level of spunk. If you like to wear your collar like this, you can ask for extra starch at the dry-cleaners. This may not work for all hair styles.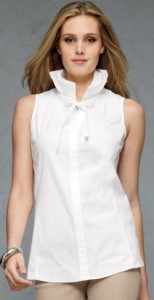 Implies Spunk 
This classic is not just for professional attire. Women wear plain white blouses with jeans and boots and the look is really sharp. Casual, but still well dressed. If you want to show some midriff you can leave the last few buttons undone and tie the blouse in a knot. You can also wear it with a lace top or camisole in a contrasting color, and let the blouse hang loose and unbuttoned.
Be sure to replace them though, when they get yellow or gray stains. That completely ruins the clean freshness it lends to an outfit.  It's best to have more than one white blouse, I suggest having 2 or 3 in different cuts. Perhaps, one long sleeve, one three-quarter length sleeve, and one with pleats.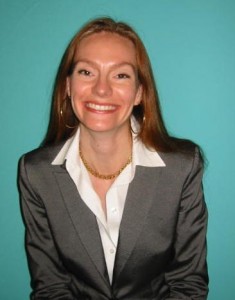 Johanna Magnusson
Guest Writer