What type of top can I wear with the "New" slouchy trouser pants?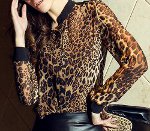 Trouser style pants look best with fitted tailored style tops, shirt style blouses, cropped sweaters or T-shirts. Cropped leather jackets or blazers are great finishing touches. For the office wears slouchy trouser pants with a blouse and blazer.
Read More:
Cropped Tops
Cropped tops or the peek-a-boo look are hot trends emerging this season.  Believe it or not cropped tops can be flattering on many ages as long as they don't reveal too much skin. Less skin showing is more elegant, subtle and sophisticated. The hottest style is a boxy, square shouldered style cropped top worn with  high wasited pants or slim skirts. Looks tres` chic worn with a pencil skirt.
Choosing Eyewear
Eyewear fashion is important because the first impression you make is critical.  The way you look says something about you. When choosing eyewear take into consideration your face size and shape. Ask an optician for help when choosing eyewear fashion.  They can guide you in selecting a style that is flattering on you. Ask the optician for help and be open minded.
Organize Your Clothes and Closet
Organizing your clothes and closet should be done at least twice a year. Spring and Fall are good times of the year. An audit is taking a clothing inventory and gives you the opportunity to get rid of things that you do not wear, don't fit you or things that are out of style. A few good basics and special pieces should be the keepers.