What type of shoe can I wear with the "New" slouchy trouser pants?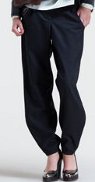 The "NEW"" slouchy trouser pants come in different lengths. Long styles that skim the ground (no skin showing between pants and shoes) or tailored ankle length look best with heels or flats. Cuffed versions that end at your ankles can be worn with flats, flip-flops or heels.
Read More:
Shoes Every Woman Must Own
Shoes have tremendous transformative power. They can make or break your look, and along with that your mood. But too many of them require you to be too careful when you have them on. While the diversity in the shoe department is like a gift from God, it also makes us lose sight of which are the must-haves and which are simply there because they look good but don't necessarily do anything for you.
10 Tips For Getting A Proper Shoe Fit
The size of your feet changes as you grow older so always have your feet measured before buying shoes. The best time to measure your feet for the best shoe fitting is at the end of the day when your feet are largest.
Footwear Basics
Shoes can make or break an ensemble. In addition to choosing the right style and fit, caring for your feet and your budget are also essential considerations. Shoes are an investment therefore buy the best you can afford.
Follow 4FashionAdvice.com's board Fashion Trends on Pinterest.