The Best Long Term Investments: Great Basics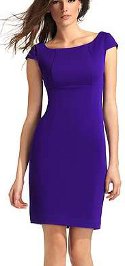 A Good Time to Invest in Basics
The constant barrage of news about the rapidly changing financial markets and the need to change our spending habits makes this a challenging time to be fashionable.  But take heart, this is a perfect time to survey our wardrobes, reconsider some of our purchases and eliminate those that don't do us justice.
If you are among those who have made  investments in great basics in your wardrobe, you should be able to go on for another three years without feeling any pain.  However, if you have invested in trendy fashions that last no more than a season then you may have a problem.  As many of you already know from before, I believe that having style and looking great should not break the bank.
The good news is that as the financial barometer keeps falling, so does the price of clothing.  Never have I seen so many good deals as now.  It's a buyer's market but sadly it means desolation for the retailers. So if you have the cash, this is certainly a good time to invest in great basics.
Do I sound like your financial fashion advisor?  Perhaps as here is my wardrobe investment advice:
1) Do not buy if you do not have the cash.  Credit cards are a no-no unless they can be paid in full when the statement arrives.  Although it is tempting to take advantage of the great prices, this is not the time to create new debts or add to the ones you already have.
2) Think of your wardrobe as if it were your portfolio.  Is it diversified? It really is important that you have something to wear for every occasion. This will protect you from having to rush out to a store and buy something on impulse.  Does your wardrobe reflect your lifestyle? If you spend 60 percent of your time dressed in business attire, 30 percent dressed casually and 10 percent formally; does your wardrobe reflect exactly that: 60 percent business attire, 30 percent casual, 10 percent formal? Are you near retirement? If so, do you really need more business suits?
3) Downsizing is in: smaller (smarter) cars, smaller (easier to maintain) homes, smaller (more efficient) wardrobes.  Again, as I've said many times before, there are only seven days in a week: five working days and two leisure days. Why have more than five business ensembles?  The better choice is to downsize and invest wisely.  Choose quality over quantity and stick to great basics.
4) Think twice!  This is not the time for impulse buying. Here's my secret.  When I get that irresistible urge to shop and my bank account is flagged with big red no-nos, I shop online. I indulge myself by hitting "Add to cart" whenever I see something that captivates me but when it's time to submit my credit card, I resist the temptation to hit the "buy" button and log off! (If you put time between your thoughts and your action, my guess is you wouldn't click the 'buy' button)
Don't laugh!  It works!  Same with catalogues. I mark the items I like, set the catalog aside for a week, and then go back to check my selections.  Believe me, most of the time I do not need them and into the recycling bin the catalog goes. Immèdiament!  No second thoughts allowed.

Michele Benza


Guest Writer

Save