Are tan leather boots with shearling linings & lug soles too casual for sight seeing in Paris? Plan to wear in the daytime with a pea coat.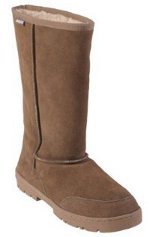 Your high tan leather boots with the shearling linings and lug soles should look good with your pea coat and keep your feet warm and cozy in Paris. Wear with jeans or flattering pants for sight-seeing during the day. People dress very casually today even in Paris so you will look great. How lucky to be visiting Paris in the winter!
Read More:
Travel Wardrobe Planning
Travel wardrobe planning is essential for an enjoyable trip. Determine how many days you will be traveling and what activities you'll be doing. Separates can be mixed and matched easily and you can add variety with colorful scarves and a few pieces of costume jewelry. Dress codes are relaxed today. No need for a lot of dressy clothes unless you are going to a special event like a wedding, etc.
What to Pack for Your Next Vacation?
Vacation time is coming up soon and the question of what to pack is on your mind.  No matter where your travel destination is, a cruise, resort, hiking or one of the fashionable cities in the world, there are some fail safe tips that make packing for the trip easy.
Travel in Style and Comfort
It is possible to travel in style and comfort by air even when you must endure many hours sitting on an airplane. The desire to be comfortable should be number one on your list but looking good is important too.  You never know who you might meet when traveling. Today there is an abundance of comfortable stylish sportswear, loungewear, and footwear to choose from when putting together a travel outfit. Fashion today is very casual and more about effortless style than glamour. When selecting travel clothes dark colors won't show dirt, and knits and fabrics with some stretch are comfortable and retain their shape. Another consideration would be clothing that is easy to care for.
Follow 4FashionAdvice.com's board Winter 2014 on Pinterest.