Searching for the Perfect Wedding Gown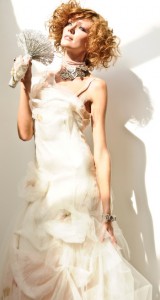 Wedding Gown
..the right style and correct neckline to flatter your shape


is what you need to be concerned about at first."
I would like to start this article with lots of dont's but I would still like to think of it as positive thinking for the bride. First, don't take every one to your appointments. At the early stages of looking choose some one who wants to help and knows you well. They will have your best interests at heart.
Do not assume you don't know what you want, A good way to start is to be clear about what you don't want. My experience is that you probably have a very good idea of what the look is you are after. Trust your instincts.
At any bridal store after giving some indication of your desires this will now be the perfect time to test whether the sales consultant has listened to you. Remember the test of a good sales person is whether she has shown you gowns that explore your ideas and one that moves you in the direction you want to take. Remember the right style and correct neckline to flatter your shape is what you need to be concerned about at first. Try on a few necklines to decide which works the best. A good sales person will try to fulfill your ideas but if she sees they are not working steer you to styles that maybe more appropriate. If you don't agree, don't get sidetracked move on.
I have many lucky customers who can look good in everything , and so at this point only they know what is going to be the gown they want to be married in. Wedding budgets may and in my experience always play a roll in choice so give a realistic figure to the sales assistant at the beginning. Remember if you feel good in the gown, there is a good chance you will look good too. You and your partner are the directors and producers of this special day so don't forget all these decisions are intended to make two people happy; remember you are not marrying yourself.
Enjoy the search for the perfect gown but don't lose sight of the big picture and the reason you are getting married. There is never a good time to be a" bridezilla" and remember don't park your brains at the door when you go in search of your gown. It may be a surprise, but you will find you know far more than you think.
Read More Tips at Wedding Books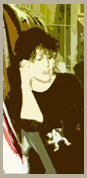 About the author. Jane Wilson-Marquis was born and raised in England. She began her career as a clothing designer in London , crossing the Atlantic over 20 years ago. Jane now operates a private couturier salon specializing in fashion for the entire bridal party as well as custom tailored evening wear for her distinguished clientele.
Save