Can I wear royal blue shoes with a navy blue dress? The shoes have a navy beaded crystal flower on the top. It's for my son's wedding.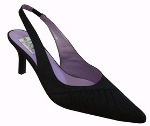 You can wear royal blue shoes that have a navy beaded crystal flower on the top with a navy blue dress if you think they look good together. Do a mirror test to see how the shoes look with your dress. If in doubt don't. Another strategy would be to wear black patent leather shoes and bag and wear statement earrings or a statement necklace which draws attention upward to your face area. You can also wear silver shoes and bag with silver or sparkly (quality rhinestone or diamond) jewelry with your navy blue dress.
Read More:
Mother of the Groom
You are the Mother of the Groom. You want to look great and make a good impression at your son's wedding. How do you begin to choose an outfit? It is a good idea to talk to the bride about her color scheme for the wedding and find out what type of wedding she is planning (daytime or evening).
Jewelry That Makes A Statement
Jewelry that makes a statement sends a message about who you are and what you value, conveys confidence and can make an outfit chic. I think what you notice first about someone is their personal statement. A piece of jewelry that catches your eye when you see a woman qualifies as a "statement" piece of jewelry. Something that stands out from everything else.