Mix It Up: Bright Colors and Metallics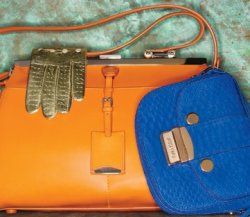 The trick to pulling a look together


can be in the details.
With summer breathing down our bundled necks, it's time to pack away the furs and sweaters and embrace this coming season's new looks.  One of the hottest current trends for accessories is mixing metallics with bright bold colors.  Surprisingly, this look can be extremely wearable, not to mention day friendly.  Here are some tips to make sure your ensemble is on point.
Choose a lead piece and build around it.
The key to this look is overall cohesiveness as the last thing you want is to have your pieces compete with each other.  Get them on the same team by choosing a lead accessory such as bright red bag and combine it with a more toned down metallic hue for your shoes or a pair which has metallic accents or hardware.
Pair your bold accessories with basics.
Since bright colors and metalics are eye catching enough already, pair your accessories with classic tailoring and clean silhouettes such as a well tailored Tee and shorts or simple maxi skirt in a neutral print.
Sweat the small stuff.
Sometimes the trick to pulling a look together can be in the details. Although Chanel's 513 Black Pearl nail polish comes across as a bit dark for a spring color, the metallic hues are a subtle and sophisticated way to complement your bright colors.
Go ahead.  Mix it up.
Mixing bright colors usually works better than trying to match the colors of your accessories.  Just be sure they don't clash by making sure that the undertones are the same. With bright colors, a good rule of thumb is to stop at four.  Any more than that and you will look too busy, especially if you are incorporating metallics into your accessories.
There is a lot of room for interpretation when it comes to mixing metalics and color.  No matter what the trends of the season, the most important thing is that you feel good in what you are wearing.  If you feel confident then chances are that you will look better, no matter what you are wearing.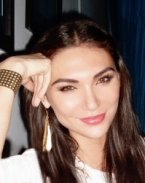 Guest Writer
Tienlyn Jacobson
Save
Save