Men's Fashion Trends for 2013
by Nubian Meehan

Spring Fashion
Stylish Men's Clothing
If you have been plagued by the cold, unruly temperatures in the Northeast and much of the country for that matter over the last few months—smile. Warmer weather is on its way. This means now is the best time to shop for the latest trends in men's spring fashion to keep you looking your best whether you're at work or spending time doing what you enjoy most.
Make It POP
From cardigans to ties, to shoes, pants and glasses, adding a pop of color to your outfit can make a not-so-stylish outfit stand out among the rest. Here's how to make it pop without making it appear too overdone: Say goodbye to your average tan khaki pants and hello to a lively color. From the streets of New York City to Boston, Massachusetts, stylish men have put away the casual earth-toned pants in exchange for something a bit more preppy and European. In fact, it is common for men in Europe to wear bright shades of orange, red and yellow which could be the new "norm" when it comes to men's spring fashion.
Boat Shoes or Loafers
Boat shoes are casual enough to wear with shorts, stylish enough to wear to work and comfortable enough to wear at any given time in between. If you have a low-key job that lacks a stiff dress code or are out on the town and still want to look put-together, the classic boat shoe will enable you to feel comfortable and confident. Boat shoes can be worn with pants, shorts, polo's or golf shirts and can be used throughout the entirety of the spring, summer and into the fall months.Choosing a pair of loafers in place of the boat shoe will enable you to wear business-professional attire such as dress pants and a blazer. Loafers and boat shoes differ in style though they have a similar feel.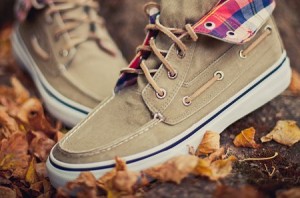 Nautical Stripes of Blue and White
Whether you sport the striped look on a t-shirt or tie, going for the nautical look is a sure sign that the warm weather is here to stay. The casual blue and white striped t-shirt in either a V neck or crew neck will look great paired with dark jeans, khaki pants or shorts. Add classic black Ray Bans Wayfarer and boat shoes to give off an easy-going and happy vibe.
Want to bring that same vibe to the office but can't wear boat shoes, sun glasses or a t-shirt? Pair a blue and white striped tie with a white shirt and blue suit or blazer. Despite the latest fashion trends or what is said to be the next best thing, it is important to feel comfortable and confident in what you wear and how you wear it. Never forget that everyone has their own unique sense of style.
This guest post was written by Nubian Meehan who writes for VencerNY.com, a street style blog highlighting the latest trends in men's urban fashion.