Can I still wear white pants, shorts or shoes after Labor Day? I am going to Myrtle Beach, South Carolina September 30-October 4.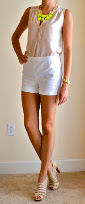 The rule of no white after Labor Day is archaic in the 21st century. You can wear white all year-long today. Always check the weather where you are traveling to before packing. Take into consideration the climate when choosing white clothing. Lighter weight white fabrics are more appropriate in warm weather climates. If you're wearing white in colder climates you would probably wear fabrics like heavier sweaters and woolen dresses, skirts, and pants. Myrtle Beach is so beautiful in the fall. What a wonderful trip.
Read More:
Travel Wardrobe Planning
Travel wardrobe planning is essential for an enjoyable trip. Determine how many days you will be traveling and what activities you'll be doing. Separates can be mixed and matched easily and you can add variety with colorful scarves and a few pieces of costume jewelry. Dress codes are relaxed today. No need for a lot of dressy clothes unless you are going to a special event like a wedding, etc.
What to Pack for Your Next Vacation?
Vacation time is coming up soon and the question of what to pack is on your mind.  No matter where your travel destination is, a cruise, resort, hiking or one of the fashionable cities in the world, there are some fail safe tips that make packing for the trip easy.
Follow 4FashionAdvice.com's board Travel on Pinterest.