Jewels, Gems, and Fun with Stella & Dot
By Yolanda Wright
Jewels, Gems, and Fun




Stella & Dot Trunk Show
Jewels, gems, rhinestones, beads and more all showcased fashionably fun and always fierce at San Francisco based Stella and Dot. (www.StellaDot.com) This wonderful jewelry blog allows their customers to not only shop on-line but have in-home trunk shows – which should be called shopping parties. Stella and Dot is a unique way to shop with friends and make new friends who have an eye for style just like you, so let's get a taste of Stella's Fall Collection and then contact a host and have a party!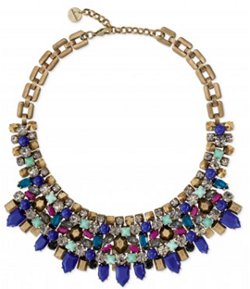 Kahlo Bib
The Necklace:
This luscious color will make an outfit bounce, pop, and shout. Here we have a limited edition necklace – Kahlo Bib it's a mixture of glass stones and metal nuggets with pops of cobalt. This necklace works well in the day if you want a little spice to your day look and at night. Its versatility and great mix of colors makes it the perfect statement necklace.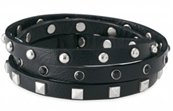 Studded Trifectas Wrap
The Wrap:
The wrap bracelet is unique and chic! Wrap bracelets are a great way to show your stylish charm so that means mix it up. Add a bangle or two, a small cuff, or another leather bracelet to this one. Use the wrap as your foundation bracelet to let your unique sense of style shine!
Bedazzled Ears-Stunning Earrings:
Here we have some classics, statements, and fun styles to dress up your ears and your outfits. There is nothing like the perfect pair of earrings; they draw attention to a gorgeous face accenting and complimenting the loveliness in every lady.
The Stud and the Classic:
These pyramid studs add dimension and depth, and in rose gold add a unique alternative to the classic stud. Czech rhinestones create a hint of glamour with a subtle edge.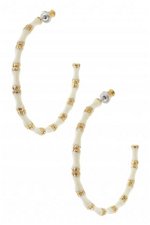 Betty Hoops
The Signature Hoops:
These luscious hoops are both classy and stylish. A sculpted bamboo and hand painted ivory earring are a definite classic charm to any outfit with a modern appeal.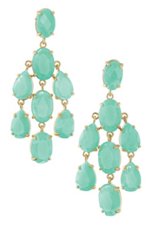 The Chandelier:
These pretty little aqua gems are divine and decadent. Adorn your daytime look without going overboard or add a touch of femininity to a LBD for play night!