What jewelry can I wear with a beige wedding dress?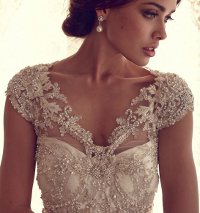 Beige color wedding dresses are so rich looking. Pearl or sparkly (quality rhinestone or diamond) jewelry or a combination of pearl and sparkly jewelry would look very elegant with a beige color wedding dress. When deciding on what jewelry to wear with your dress consider the neckline of the dress. If your dress is strapless and simple in style a beautiful statement necklace and simple earrings would be beautiful and draw the attention to your face and you. If your strapless dress is very ornate you don't need a necklace. Just wear simple earrings. One shoulder style wedding dresses look good with earrings and no necklace. A wedding dress with a high neckline that is simple in style might look nice with pearls. You really have to try on your dress ahead of time and experiment with jewelry to see what looks best.
Only simple style jewelry (earrings) with this ornate wedding dress.
Read More:
Beautiful Brides Around the World
Take a peak at beautiful brides around the world in their gorgeous bridal gowns. Photos taken in Croatia, Stockholm, Edenburgh, Russia, China, USA, Spain, Italy, Costa Rica and more. White, the symbolic color for weddings, seems to be the most popular color for wedding dresses. However different cultures have different customs. Note Chinese brides favor red as the symbol of luck. Many of our recent brides are wearing shorter dresses and some brides are looking edgy wearing colored shoes. Years ago, for a second marriage one would never wear white. Today, the tradition has changed whether it is a first, second or third wedding, white wedding dresses are acceptable. Once the wedding date is set and the type of wedding is decided, set a budget for the wedding dress and start searching for the perfect wedding dress. (Alllow plenty of time.)