Is it OK to wear a pale pink cocktail dress to an evening event in the winter?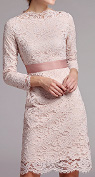 You can wear any color cocktail dress to an evening event in the winter. There are no rules regarding wearing specific colors to evening events. Wear colors that look good with your skin tone. Always decide on what to wear based on if the outfit is flattering on you, suitable for the event you are attending and age appropriate. (Age appropriate means clothing that is not too tight, too short or too low cut.)
Read More:
Build A Basic Wardrobe
There is no perfect basic wardrobe that applies to all. A basic wardrobe takes into consideration lifestyle or clothing for all of our activities. If you are a hockey coach your wardrobe is going to be a lot different than a corporate lawyer's. However when we choose a basic article of clothing it is something we should plan on wearing many times (getting our money's worth). These items are like good investments since they will reward us many times in the future. When buying basics purchase quality pieces, not necessarily the most expensive.
What is A Good Investment in Clothing?
We have a tradition in our family.  We go to a movie every day during the holiday season from December 25th right through to New Year's Day. It's a fun tradition that I always look forward to. One of my favorite movies was "Up in the Air." George Clooney plays the main character, an executive, who travels around the country to fire people. He has no life to speak of.  He carries all he needs in one wheel-away suitcase.

Follow 4FashionAdvice.com's board International Fashion Trends on Pinterest.