Is it OK to wear a corset with a suit to my college graduation in February?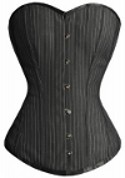 If you would like to wear a corset top with a suit go for a very conservative top (with no cleavage showing) so that you are showing "good taste." Since your graduation is not until next year experiment with outfits to see what looks good on you. Edgy and theatrical looking outfits are not appropriate for graduation ceremonies.
Read More:
Build A Basic Wardrobe
There is no perfect basic wardrobe that applies to all. A basic wardrobe takes into consideration lifestyle or clothing for all of our activities. If you are a hockey coach your wardrobe is going to be a lot different than a corporate lawyer's. However when we choose a basic article of clothing it is something we should plan on wearing many times (getting our money's worth). These items are like good investments since they will reward us many times in the future. When buying basics purchase quality pieces, not necessarily the most expensive.
Create A Signature Style
Let's talk about creating a signature style – a style that expresses your personality, that makes you smile every time you get dressed, that gives the world a clue as to who you are.  Understanding your style will make you a savvier shopper and a smarter dresser.  This is not a quick fix.  It is a lifelong exploration, and with a few key tools you can make it a fun adventure!