Is a cocktail dress appropriate for an opening night theatre event in downtown Atlanta?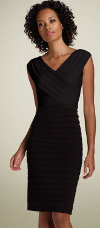 You will probably see a variety of clothing at the "Opening Night" theater event. A LBD (Little Black Dress) with attractive jewelry would look great or you can wear pants with a fancy top. In general people dress more casual today for everything . However for a formal theatre opening event you can wear a cocktail dress. Whatever you decide to wear be sure it flatters your figure and is age appropriate.
Read More:
Build A Basic Wardrobe
There is no perfect basic wardrobe that applies to all. A basic wardrobe takes into consideration lifestyle or clothing for all of our activities. If you are a hockey coach your wardrobe is going to be a lot different from a corporate lawyer's. However when we choose a basic article of clothing it is something we should plan on wearing many times (getting our money's worth). These items are like good investments since they will reward us many times in the future. When buying basics purchase quality pieces, not necessarily the most expensive.
The Little Black Dress, The Wardrobe Essential
What's great about "The Little Black Dress" is that it looks fabulous with or without jewelry. You can wear a scarf with it for an interesting effect and it doesn't show dirt if you take it traveling. In addition black is slimming so you'll look a few pounds less when wearing it.
Tim Gunn's 10 Must-Have Basic Wardrobe Pieces
Tim Gunn's must have 10 basic wardrobe pieces and a bonus must have that every stylish woman should have in her wardrobe. These basic wardrobe pieces are timeless and great clothing investments.
10 Items Every Woman Must Own
Every woman has certain "must haves" in their life. These often involve clothing that needs to be a staple in every woman's wardrobe. Here are 10 items a woman must have in her wardrobe.