Re-invent Your Style and Character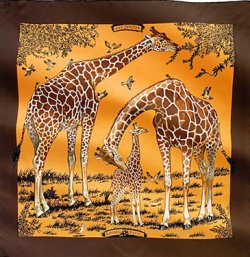 Hermes Scarf
We have the "It" Handbag, the "It" Shoe and now the "It Scarf". During the last few years we have witnessed scarfs being worn day and night, on young and old, and for casual or dressy occasions. Not only do they come in different sizes (over sized for drama or soft silks for a feminine look) and in every color(s) imaginable, they can transform your look instantly.
5 Ways To Express Yourself with your Hermès Scarf
Women adopted the scarf in ancient Rome and haven't looked back. Today scarves are "must have" items in every woman's wardrobe. Scarves are an easy and affordable ($30 – $500.) way to update your wardrobe. Plus scarves can be multi taskers since they can be worn in a variety of ways. Women wear scarves as evening wraps, beach wraps, mufflers, halters and sarongs, head scarves/turbans, headbands, tied around the strap of a handbag, worn as a belt around the waist, and around the neck a scarf will conceal any wrinkles.
1.    Choose a scarf that will enhance your outfit
2.    Choose colors that complement your skin and what you are wearing.
3.    Consider the size/proportion of the scarf.
4.    Print scarves look good with solid color clothes.
5.    Solid color scarves work well with print clothing.
6.    Get a sophisticated look, wear a slightly darker or lighter scarf
with a solid color outfit.
7.    Mix textures for a more interesting look.
8.    Only 1 piece of jewelry is necessary when wearing a scarf.
9.    The most versatile scarf is a long and thin scarf.
10.  Tie a scarf around the handle of your handbag to add interest to an outfit.
"In many cases a scarf gives a final touch to a dress. But you have to experiment and try many different ways of wearing a scarf before you find the way that suits you best. It is a very personal matter; and what suits one woman will not necessarily suit another." Christian Dior