What can I wear with a floral print dress (white with red/pink, yellow, green) & a red/pink belt? I'm really desperate for help with my outfit for a wedding. I'm a size 14, 5'3 & I'm a little embarrassed about my upper arms!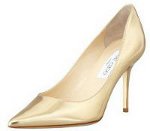 Your floral print dress sounds festive for a special event like a wedding. You can wear shoes the color of the belt with a white shawl / pashmina and carry a gold bag. Gold shoes and bag with a white or red shawl pashmina would also look good with your dress. Try the different options on and wear what you think looks best on you.
Read More:
Finishing Touches: Belts
No matter what time of the year belts are a popular accessory and are a way to define your waistline. You can belt a suit, coat, or dress for a new and /or put together look. Belts with interesting buckles are another way to add some style to your clothing. They are a way to give a basic outfit like a LBD (little black dress) different personalities or an updated look. For example a snakeskin, leopard print or a metallic belt can give your LBD three different looks.
Essential French Style, The Scarf
A visit to Paris confirms that essential French style is a scarf. The scarf is an important part of French style in every French woman's wardrobe. Scarves keep you warm, and they improve the look of any outfit. Scarves give women French style a more worldly, sophisticated, and refined look.