What color shoes & accessories can my bridesmaids wear with gray dresses? They will be carrying bright yellow flowers. The wedding is in April.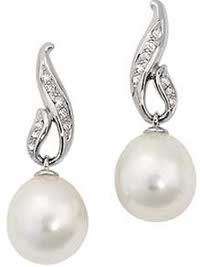 The gray one shoulder bridesmaids dresses that you have chosen for your wedding party sound awesome. Yellow for flowers are a great choice since yellow looks fabulous with gray! My choice would be silver shoes. Silver is very festive looking. Just have the bridesmaids wear earrings with one shoulder dresses. You can choose silver or sparkly (quality rhinestone or diamond) or a combination pearl and sparkly earrings. Draw attention upward with good looking earrings focusing attention on their head area instead on their feet with fancy footwear. Best wishes!
Read More:
Selecting Bridesmaid's Dresses
One of the first duties of every bride-to-be is to choose her bridesmaid's dresses and the maid of honor dress and decide what colors and / or style of dresses she would like them to wear at her wedding. It is considerate to discuss with the bridesmaids the style and color of dresses they would prefer to wear on the wedding day.
Beautiful Brides Around the World
Take a peak of beautiful brides around the world in their gorgeous bridal gowns taken in Croatia, Stockholm, Edenburgh, Russia, China, USA, Spain, Italy, Costa Rica and more. White, the symbolic color for weddings, seems to be the most popular color for wedding dresses. However different cultures have different customs. Note Chinese brides favor red as the symbol of luck. Many of our recent brides are wearing shorter dresses and some brides are becoming edgy wearing colored shoes. Years ago, for a second marriage one would never wear white. Today, the tradition has changed whether it is a first, second or third wedding, white wedding dresses are acceptable. Once the wedding date is set and the type of wedding is decided, set a budget for the wedding dress and start searching for the perfect wedding dress. (Alllow plenty of time)
Follow 4FashionAdvice.com's board Bridesmaid's Dresses on Pinterest.