What can I wear with yellow wedge style Marc Jacob shoes?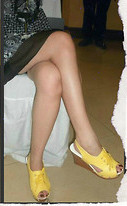 Your Marc Jacobs yellow wedge style shoes sound fabulous. Yellow looks beautiful with black and white or navy blue and white color combinations. A dress or skirt in a black and white print, polka dots or stripes would look good with yellow wedge style shoes. Dark pants or dark jeans look nice with wedge style shoes also. Or try solid color white pants or white jeans with a white top to get a stylish look with your yellow wedges. Have some fun experimenting and make a statement with your shoes.
Read More:
How To Wear Color and Look Great
Colored clothing is popular in all seasons. Bold, bright colors, give you a youthful and energetic look. Plus they will certainly cheer you up, and they will also attract attention to you.
Shoes Every Woman Must Own
Shoes have tremendous transformative power. They can make or break your look, and along with that your mood. But too many of them require you to be too careful when you have them on. While the diversity in the shoe department is like a gift from God, it also makes us lose sight of which are the must-haves and which are simply there because they look good but don't necessarily do anything for you.